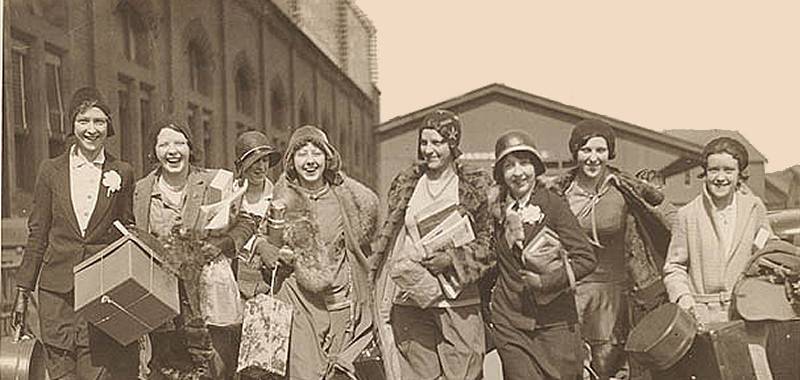 Frances Brody comes from a great family of story tellers, though she's the first in the family to write professionally. "On the screen of my imagination," she says, "I can conjure aunts and uncles from years gone by, and the word pictures they painted of people from earlier generations."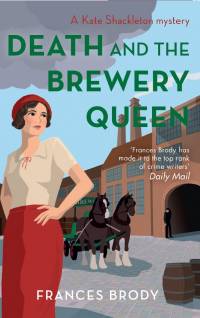 She is the author of twelve Kate Shackleton mysteries - don't be fooled by Kate's latest investigation, which has two titles, one for either side of the Atlantic! Both were published in October 2020: first the US edition, published by Crooked Lane under the title Murder is in the Air, then the UK edition, Death and the Brewery Queen followed, from Piatkus.
In the Spring of 1930, Kate Shackleton responds to a call for help from the owner of Barleycorn Brewery in the North Riding of Yorkshire. Financial whiz Jim Sykes suspects threats to the brewery's business. When the one employee who may have an insight into what's really going on meets with a fatal accident, Kate's investigation intensifies.
Kate and her niece Harriet move off the beaten track into Oak Cottage. On the day of the brewery garden party, Harriet helps newly crowned Yorkshire Brewery Queen Ruth Parnaby to entertain the children. Planned pony rides are cancelled because pony and drayman have gone missing. It's Kate who opens the wrong door in the brewery. She finds herself staring at a body, and in danger of asphyxiation.
Against a background of family secrets, the lure of a much greater prize for the Brewery Queen and the strong possibility of a miscarriage of justice, Kate's wit, skill and passion for truth are tested to the limits.
"Britain between the wars provides the backdrop for murder and an engrossing look at women's place in society."
Read more about Kate's latest adventure or find a full list of the Kate Shackleton mysteries.
* * *
"Brody's writing is like her central character Kate Shackleton: witty, acerbic and very, very perceptive."
Ann Cleeves, award-winning author of the Shetland and Vera Stanhope mysteries.
"Absolutely captivating! With charm, skill, and spot-on insight, the talented Frances Brody expertly transports us to Yorkshire, 1928 - and we are thrilled to be there. You'll adore the wonderfully atmospheric dialogue and put Brody on your bookshelves with Bowen and Winspear.."
Hank Phillippi Ryan, national bestselling author of Trust Me.
* * *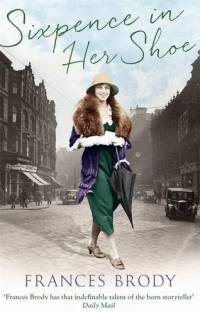 Before creating the Kate Shackleton mystery series, Frances wrote many stories and plays for BBC radio, scripts for television and four novels (as Frances McNeil). Now Sisters on Bread Street, Sixpence in Her Shoe and Halfpenny Dreams, originally published as Frances McNeil novels, are beginning a new life as Frances Brody books. Sisters on Bread Street was published in January 2016, followed in April by Sixpence in Her Shoe, with Halfpenny Dreams completing the set in July.
Visit the 'Sagas' page to learn more.
Frances's stage plays have been toured by several theatre companies and produced at Manchester Library Theatre, the Gate and Nottingham Playhouse, and Jehad was nominated for a Time Out Award. She lives in Leeds where she was born and grew up, and then travelled, including a spell in the USA. Time spent in Bradford, heart of the woollen industry, gave her a valuable insight into the background for Dying in the Wool, the first Kate Shackleton mystery.
Read an interview with Frances on the 'Writers Who Kill' website.
And make sure you visit Frances's blog for the latest from her in her own words!
---
Appearances
After a summer of cancelled events, Frances was delighted to be able to launch Kate Shackleton's twelfth adventure, Death and the Brewery Queen (US title, Murder is in the Air), via Zoom from the Leeds Library (featured in Death of an Avid Reader). She was disappointed that new regulations forced the cancellation of the publication day event: signed copies of the book are still available from the Little Ripon Bookshop to buy in the shop or by post through the website.
Calling all bookshops!
Frances is doing her bit to support local bookshops. So, although personal appearances are virtual-only, she is still signing books for readers. Bookshops, contact Frances via social media to find out how you can get signed bookplates for your customers' books.
News of any future events, virtual or in person, will appear here, so keep watching for updates.
---
Header photograph, Ingenues arrive, Central Station, Sydney, 1928-1929, by Sam Hood from the collection of the State Library of New South Wales.

Website designed and maintained by Cornwell Internet
Last update: 1st June 2021.