Ponden Hall and Ponden House
On the Pennine Way near Stanbury, three miles from Haworth, stands a house with a history. A former farmhouse, Ponden Hall was occupied by the Heaton family from the mid seventeenth century until 1898. The Brontë family were neighbours. It's said that the Brontë children liked to spend time in the library, reputedly the finest private library for miles.
Julie Akhurst, co-owner with her husband Steve Brown, is writing a history of the house that inspired the Brontës. It's an amazing place. A person without a good sense of direction could lose herself on the way upstairs. A feature of Ponden Hall is a replica of the box bed described by Emily Bronte in Wuthering Heights, with latticed window where a ghostly hand shatters the glass, disturbing the sleep of Heathcliff's unwelcome guest Mr Lockwood. The Earnshaw Room is a popular choice, but I don't fancy a night in that bed. You can find it here. 
I stayed at both Ponden Hall and Ponden House while researching A Snapshot of Murder, the latest Kate Shackleton novel, to be published in October. In this story, Kate and six amateur photographer friends stay at the Hall during an important weekend. They are there for a special occasion – an event that really did take place. On Saturday, 4 August, 1928, wealthy industrialist Sir James Roberts presented the deeds of the Brontë Parsonage to Sir Edward Brotherton, President of the Brontë  Society, to be used as a museum for the benefit of the nation.
During my research, I came across no sudden deaths. Kate and her friends were not so fortunate. Seven photographers arrive at Ponden Hall … and then there were six.
 Kate Shackleton investigates a crime in Brontë country
My first visit to Ponden Hall was years ago, for a yoga weekend, when it was owned by Brenda Taylor. In 1975, she and her husband bought the house from farmers Sam and Peggy Dyson. The Taylors' grand plan was for self-sufficiency. They kept a cow and hens. They and their young daughters worked hard. The kids helped with haymaking. As well as offering bed and breakfast to Pennine Way walkers, Brenda and Rob began handloom weaving in the room that had been used for that purpose in previous centuries.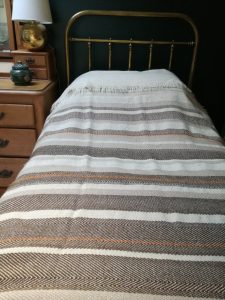 Handwoven bedspread in a room at Ponden House.
When Brenda sold Ponden Hall to Julie and Steve Brown in 1998, she had built a smaller house close by, on the site of a derelict barn. This was Ponden House where I stayed last week, on a walking holiday with Anglo-German Walks. A very good week it was, with lovely people, delicious food, achingly long walks and only the usual amount of rain.
This area is a great place to visit, as the Ponden House and Ponden Hall websites show. (By the way, I am not on commission!) I was impressed by the close-knit nature of the Stanbury and Haworth community. Sociability is essential when people are reliant on septic tanks and a supply of oil, as well as facing the possibility of being cut off by snow.
Ponden House
I'm also impressed by the good nature and hard work of the keepers of these  houses. Brenda's daughter Jan Taylor, former young haymaker, often helps her mother. She also continues the family arts and crafts tradition, being a designer and creator of fused, hand-painted and stained glass.
I'll be at Ponden Hall on Saturday morning 22 September, leading a crime writing workshop: Turning to Crime, part of the Brontë Museum's Contemporary Women's Writing Festival
The UK launch of A Snapshot of Murder, Kate Shackleton's tenth adventure,  will be launched on Friday 19 October, 7 pm, at Cobbles and Clay, Haworth where I'll be in conversation with Ann Dinsdale, Curator of the Brontë Parsonage Museum.  A £5 ticket includes a glass of wine and canapes.
A Snapshot of Murder ISBN: 9780349414324 Publication date: 25 Oct 2018   Price: £8.99