Frances in Filey
The seaside town of Filey, a former fishing village on the east coast of Yorkshire between Scarborough and Bridlington, held its inaugural literature festival in May this year. I had the pleasure of taking part. There were walks and talks and a film about the life of Hannah Hauxwell, solitary elderly farmer who lived and worked alone in the Yorkshire Dales. The festival festival was a long time coming, because of lockdown. Congratulations to Jeannie Williams and all who made it happen. The venue was the Evron Centre, a former convent. I followed the long-ago footsteps of nuns who took their silent walks along sea view paths.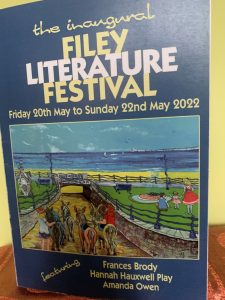 Many moons ago, I spent a summer working in Filey at Cairncross & Sons on Belle Vue Street, then a high-class gentleman's outfitters. I stayed with Mr and Mrs Cairncross and their son George in The Shack, their wooden house on the cliffs.
My bedtime reading that summer was Evelyn Waugh's Vile Bodies, Scoop and Put Out More Flags which I found laugh-out-loud hilarious. One morning, Mrs Cairncross, looking tired, said to me, 'I could hear you laughing half the night'.
Each day, Mr and Mrs Cairncross would go to their caravan park shop in Primrose Valley where they sold flip-flops, t-shirts and buckets and spades. George and I minded the outfitters, walking to work along the wide stretch of beach, passing the ugly concrete structure of an abandoned Second World War lookout post.



In those days, George, a poet, artist, and anarchist, published a popular magazine called Bogg that he typed, and ran off on a spirit duplicator. Bogg comprised sketches, poems, short stories, and rude drawings by the talented Joe Hirst. I am proud to have been a contributor to such an eclectic magazine that included the early poetry of Ian McMillan, who, among much else, now writes an insightful and entertaining weekly column for the Yorkshire Post magazine.
My hugely enjoyable event at the Filey Festival included a cream tea on Saturday. Such is the pull of the seaside that I arrived a day early. I hadn't brought anything to read. Cairncross & Sons was my first port of call. I knew George would have reading recommendations. We went to the attic where he stores his paintings. I borrowed Archy and Mehitabel by Don Marquis, first published in 1934. Writers don't like to waste words and Marquis was no exception. He drew on his newspaper columns about Archy and Mehitabel who made their debut in the New York Sun and the New York Herald Tribune.
Archy is a cockroach who writes free verse on an office typewriter. His friend, Mehitabel, is the cat who claims that she was once Cleopatra. As Mehitabel can't type, Archy, wit, scandalmonger, and philosopher, becomes Mehitabel's reporter. The book is printed entirely in lower case because Archy can't type capital letters. Mehitabel's story is clever, funny, philosophical, and completely nuts. I loved it. Mehitabel says,

"you want to know whether i believe in ghosts
of course i do not believe in them
if you had known
as many of them as i have you would not believe in them either"

Archy the typing cockroach made me reflect on my horror of cockroaches. I had a tiny apartment when I lived in Manhattan. A very big cockroach moved in. I called on a good friend from ten blocks away to come and deal with it. Now I feel bad about that cockroach. Perhaps it was Archie's descendant.
If you go to Filey, say hello to George. His shop, now specialising in militaria, is across the street from where Charlotte Brontë stayed. Local historian Catherine Welch leads The Filey Literary Walk that boasts a stellar cast. It will halt by the Charlotte Brontë café. It will also halt by Cairncross & Sons for a mention of guess who. Clue: this person wrote for Bogg and helped with the spirit duplicating.