Death at the Seaside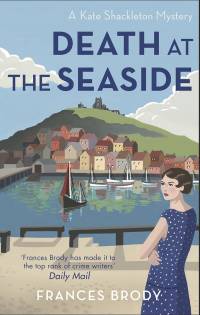 Nothing ever happens in August, and tenacious sleuth Kate Shackleton deserves a break.
Heading off for a long-overdue holiday to Whitby, she visits her school friend Alma who works as a fortune teller there. Kate had been looking forward to a relaxing seaside sojourn, but upon arrival discovers that Alma's daughter Felicity has disappeared, leaving her mother a note and the pawn ticket for their only asset: a watch-guard.
What makes this more intriguing is the jeweller who advanced Felicity the thirty shillings is Jack Phillips, Alma's current gentleman friend.
Kate can't help but become involved, and goes to the jeweller's shop to get some answers. When she makes a horrifying discovery in the back room, it becomes clear that her services are needed. Met by a wall of silence by town officials, keen to maintain Whitby's idyllic façade, it's up to Kate - ably assisted by Jim Sykes and Mrs Sugden - to discover the truth behind Felicity's disappearance.
And they say nothing happens in August ...
Visit the locations in Death at the Seaside with the Booktrail; read the start of the story at CriminalElement.com.
"...Frances Brody has the knack of spinning a tale that, however convoluted, has the charm of the period, while staying well within the bounds of plausibility."
"...a complex case redolent of classic interwar mysteries..."
"Frances Brody writes marvelous British mysteries, and if you haven't met the wonderful Kate Shackleton, Death at the Seaside is the perfect place to start this terrific series! Whether you are already a Brody fan or new to the Kate Shackleton series, Death at the Seaside is a mystery you just plain can't miss!"
Charles Todd, best-selling author of the Ian Rutledge Mysteries and the Bess Crawford Mysteries.
"A delightful trip through time and space to 1920s England with a heroine who would make the ladies of the Golden Age proud"
Rhys Bowen, New York Times bestselling Royal Spyness and Molly Murphy novels.
"Bearing the hallmarks of an Agatha Christie plot you know it's bound to be a compelling read. And Frances Brody's Death at the Seaside doesn't disappoint...
"...a character-driven mystery set in the period between the wars, this is Highly Recommended."
---
Buying the Book
In the US
The US edition was published by Minotaur Books on September 12th 2017;
In the UK
Death at the Seaside was published by Piatkus on October 6th 2016;
See it on the publisher's website (also available as an ebook)
or order it from any bookshop or library (ISBN: 978-0-3494-0658-9).
Reviews
"If you like an English cozy with a cast of colorful characters in a lovely locale, you will enjoy this one. Set in the 1920's before computers, cell phones, and DNA, Kate is a refreshing heroine. She is a free and independent spirit who works tirelessly to find the guilty person and seek justice. I enjoyed it and so will you."
"This leisurely paced cozy vividly entwines the life and times of 1920s Yorkshire with the hazard of a seafaring community. Sympathetic characters, especially the intelligent, independent Kate; a rich story told from multiple points of view; and a possible romantic interest for Kate in Chief Inspector Marcus Charles add to the interest."
ALA Booklist, September 2017
"Kate is certainly someone you'd want to have your back if things went wrong. Mr. Sykes has high morals and great determination. Mrs. Sugden is able to find clues they can't. The books are enjoyable reads that not only take you to another time but another country as well - just like a vacation."
"There is plenty of detail to unpick... Kate gradually pieces the crime together - with the usual twists and revelations. Death at the Seaside is a fantastic read..."
"Death at the Seaside is the eighth book in the Kate Shackleton series and it is definitely a series that moved from strength to strength. Kate is a delightful protagonist, honest, honourable and brave. She is a wonderful depiction of the young, childless widows that were so numerous after the First World War; not bitter but regretful and taking a strong interest in the nieces, nephews and godchildren who, in some measure, fill the gap left by the children she never had. All the other characters are skilfully portrayed and, although this is part of a series, it is not necessary to have read the earlier books to enjoy this novel. Although I would recommend any reader who likes historical crime fiction to read them all - you are in for a treat. The plot is intriguing and, true to its title, Death at the Seaside has superb descriptions of Whitby and its surrounding countryside. Definitely a page turner."
Carol Westron, in Mystery People
"I do love Frances Brody novels. Sleuthing mysteries before the days of mobile phones and technology so good old fashioned brain power is what's needed. With the novel being in first person, you're inside the head of the character and I liked her from the off - I would even want to borrow those lovely hats she often wears on the covers."
"Any Kate Shackleton mystery is a treat: the series is well-written, carefully plotted and there's always a brilliant evocation of time and place. Frances Brody goes to a great deal of trouble to get this right.
"And that's the great thing about the Kate Shackleton stories: the next time around you might know who killed the vicar, or whoever, but you'll have the added pleasure of seeing how it was done, because Frances Brody doesn't cheat and produce some piece of information right at the end which explains everything: all the clues are there. On a second read you have the joy of saying Ah, that's why... "
"This is a charming read. There is a serious crime, a real investigation and a mystery to solve but this book feels as if it should read while sipping tea from bone china, helping yourself to a thin cucumber sandwich from a three tier cake stand and listening to some rhythmic twenties jazz music. Brody's writing allows the reader to relax and enjoy the very visual story with its gentle humour and soft smiles."
"Well I came a little bit late to this party as this is the eighth of Frances Brody's novels set in the 1920s featuring private investigator Kate Shackleton. I'm delighted to say it didn't matter and I thoroughly enjoyed the character without needing the background from the previous books."
"I enjoy how Kate slowly unravels the clues, she's very clever, very astute, ...she asks the right questions and somehow gets the right answers...
"Full of wonderful eccentric characters, with so many little details from that era that make me feel as if I could be in the 1920's, I loved it!"
"Brody had me tasting the sea salt in the air whilst I strolled along the Whitby beach, watching the boats sailing in the distance whilst my very own 1920s sweetheart whispers sweet nothings in my ear. Bliss."
"...a rollicking good read, full of flavoursome characters who move seamlessly in and out of frame, the dialogue is tight and the humour dry.
"The evocation of time and place, detailed descriptions of buildings and landscape and a stream of finely drawn characters, who can't be anything other than English, all serve to create a convincing hinterland against which the drama can be played out. In this, Brody brings to mind the great Queens of twentieth-century British Mystery - Agatha Christie, of course, but also Patricia Wentworth, Margery Allingham and Ngiao Marsh (albeit a New Zealander, technically).
"Death at the Seaside is an absolute delight."
"The setting of the book is quintessentially English, and the author has a lot of period detail of the 1920s without it seeming forced, or being full of facts - as a character, Kate Shackleton could easily fit in in the present, but there are lots of subtle reminders that she's a 1920s girl.
"The plot here seems quite straightforward at first, but there is a lot going on and it is all revealed at a good pace."
"The writing is engaging and clever, and the characters become friends by the time the book is finished."
"There is something special about mysteries set in close knit communities and Frances Brody captures it well."
---
Header photograph, Ingenues arrive, Central Station, Sydney, 1928-1929, by Sam Hood from the collection of the State Library of New South Wales.