Death in the Stars
Yorkshire, 1927. Eclipse fever grips the nation,

and when beloved theatre star Selina Fellini approaches trusted sleuth Kate Shackleton to accompany her to a viewing party at Giggleswick School Chapel, Kate suspects an ulterior motive.

During the eclipse, Selina's friend and co-star Billy Moffatt disappears

and is later found dead in the chapel grounds. Kate can't help but dig deeper and soon learns that two other members of the theatre troupe died in similarly mysterious circumstances in the past year. With the help of Jim Sykes and Mrs Sugden, Kate sets about investigating the deaths - and whether there is a murderer in the company.

When Selina's elusive husband Jarrod comes back on the scene,

- Jarrod who was injured in the war and is subject to violent mood swings - Kate begins to imagine something far deadlier at play, and wonders just who will be next to pay the ultimate price for fame...
Death in the Stars was longlisted for the 2018 CWA Historical Dagger.
"Authentic period detail and memorable characters from the British music hall world distinguish this traditional mystery."
"As usual ... Brody provides an excellent feel for life in postwar England along with a clever mystery full of theatrical red herrings."
"This is essentially an old-fashioned, good-fun murder mystery, making excellent use of its setting in variety theatre's fading years.
"But there's also a vein of melancholy, inescapable in any novel dealing with those generations whose every thought, deed or memory was haunted by the lasting pain of the Great War."
Mat Coward, Morning Star
"There are red herrings and clues aplenty here, and the prose is clear, succinct and readable. This is an enjoyable and well-plotted whodunit. It captures the 1920's perfectly, and caused me to read well into the night on a couple of occasions."
Read what Frances told Leeds Big Bookend about Death in the Stars: "My single regret about this book is that there is not enough ice cream!"
---
Buying the Book
In the US
Death in the Stars was published by Minotaur Books on February 13, 2018: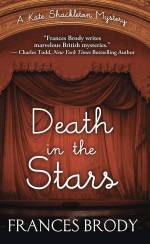 In the UK
Death in the Stars was published by Piatkus on October 5th 2017; see the publishers' website for details; it is also available in ebook or audio formats.
Ulverscroft publish the Large Print edition.
Or order it from any bookshop or library (ISBN: 978-0-3494-1431-7).
Reviews
"This well-written mystery brings to life the old vaudeville era in England, and includes one of the most effective red herrings I've ever come across."
Joseph Scarpato, Jr., Mystery Scene
"Death in the Stars is delightful, if murder can ever be considered delightful."
"Death in the Stars is another solid installment in the Kate Shackleton series. Brody's balance of history and mystery is as refreshing as Mrs. Sugden's dandelion wine."
"...a clever plot, delightful characters and evocative descriptions of England in the 1920s. A thoroughly enjoyable read and definitely recommended."
"The author keeps us highly entertained with an interesting and exciting plot, impeccably researched and a style of writing that has the reader turning the pages eagerly to discover the truth of the mystery."
Yorkshire Gazette and Herald 13.12.17
"Well-researched historical details, local knowledge, and some charming descriptive writing with vivid evocations of time and place make all the stories a great read. But this one, which opens with the brilliantly described solar eclipse of 1927, then transports itself into the fading days of music hall, is probably Brody's best yet."
"The historical details set this apart with an appearance in this book of soldiers who fought in WWI and the injuries physical and mental that they returned with. But fear not, there is a solid mystery, complete with the obligatory red herrings to keep the reader entertained as Kate turns down blind-alleys in a bid to find out if the suspicious death that occurred on her watch was murder or not.
"With more than a nod to the Golden Age writers the ending is spot-on in its execution with all the panache you'd expect from a showbiz tale."
"Frances is a wonderful storyteller and has a distinctive writing style which I love. Clues and red herrings abound in this book before we are drawn through the evidence to the satisfying conclusion."
"This story made me think of Agatha Christie and the classic style of mystery where there are twists and turns and plenty of suspects to be considered along the way. ... I really liked the style of writing and the historical setting, particularly gaining insight into the life for theatre performers in this era."
"Frances Brody has the ability to transport you to any scene, be it the crowds watching the eclipse in the Yorkshire dales or the tunnels under the centre of Leeds which linked the old theatres... As always, the characters come off the page well. It's not just our regulars: Shackleton, her assistant Jim Sykes and housekeeper Mrs Sugden or the theatre coterie surrounding Selina Fellini. Even the bit players - the tram driver devastated by having killed a man or the ventriloquist's granddaughter are all fully formed. But none of this would be worth much if the plot wasn't good. I constantly marvel at how Brody comes up with a new milieu for each book and then develops a convincing story which grips you from beginning to end."
"There may be some who seeing the bright, colourful covers might dismiss this series as cosy crime but that would be a mistake. Frances Brody doesn't stint on showing us the mental and physical suffering of men who have returned from war, the alcoholism and drug taking that many have turned to and the impact their distress and behaviour has on their wives and families."
"All of the characters were brilliantly formed - I loved the cast of variety performers and the theatrical setting was a lot of fun. Dancing ponies, acrobats, comedians, singers and everything in between. So many possibilities for motive - jealousy, envy, fear, money - all hidden beneath cheerful comraderie and over-dramatic reactions. How to tell who is acting and who is telling the truth is a challenge for both Kate and the reader.
"Frances Brody's attention to detail really make her stories stand out - who knew that there were traffic jams in 1927 as people were anxious to get a good view of the eclipse! Her characters are so believable and real and the plots are so unique and carefully thought out."
---
Header photograph, Ingenues arrive, Central Station, Sydney, 1928-1929, by Sam Hood from the collection of the State Library of New South Wales.