Leeds-Dortmund anniversary celebrations
During the past two weeks my home city has been marking a special anniversary: 50 years of town twinning between Leeds and Dortmund, Germany. Twinning was set up shortly after the Second World War with the aim of encouraging friendship, co-operation and understanding between people, with the aim that Europe should never again be torn apart by war.
In Leeds we have a Dortmund Square. In Dortmund there is a Leeds Square. The Barrel Man statue in Dortmund Square was a gift to the people of Leeds from the people of Dortmund as a token of peace and friendship between former enemies. Storyteller Matthew Bellwood worked with children from Beechwood Primary School to tell the story of the Barrel Man in a beautifully illustrated little book, The Downhearted Drayman – Der Traurige Bierkutscher. In the dead of night when Leeds Town Hall clock strikes thirteen, statues across the city come to life.
Peter Spafford, poet, playwright and musician and Leeds/Dortmund Festival Organiser collaborated with Dortmund poet Ralf Thenior  They produced the book Road Markings/Reise-Gedanken – a result of visiting each other and exploring each other's cities.
It was a great pleasure to join the celebrations on Saturday, 12 October at the Leeds Library. With visiting writer, Ursula Maria Wartmann, and fellow crime fiction writers Ali Harper (our chair), Chris Nickson and June Taylor, we explored the role of locality in crime fiction on the panel MURDER IN YOUR BACKYARD.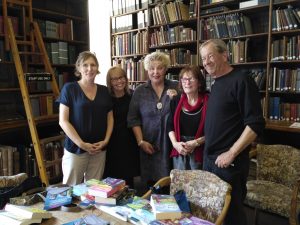 Chapel FM recorded all the events in the festival of words and music that formed the heart of the fortnight's celebrations. You can listen here.