Frances Brody comes from a great family of story tellers, though she's the first in the family to write professionally. "On the screen of my imagination," she says, "I can conjure aunts and uncles from years gone by, and the word pictures they painted of people from earlier generations."
She is the author of ten Kate Shackleton mysteries, with the publication of A Snapshot of Murder. We are in Yorkshire, in 1928. Indomitable sleuth Kate Shackleton is taking a well-deserved break from her detective work - and indulging in her other passion: photography. When her local Photographic Society proposes an outing, Kate jumps at the chance to visit Haworth and Stanbury, in the heart of Brontë country, the setting for Wuthering Heights.
But when an obnoxious member of their party is murdered, the group is thrown into disarray.
Is the murderer amongst them, or did the loud-mouthed Tobias have more enemies than they might have imagined?
There will be another case for Kate in the autumn: catch a sneak preview of The Body on the Train, Frances Brody's eleventh Kate Shackleton mystery, now!
* * *
Or find out how Kate Shackleton became Yorkshire's most tireless private investigator, a heroine ahead of her time, in a brand new short story. In Kate Shackleton's First Case, Frances Brody takes us back to where it all began...
Yorkshire, 1921. Kate Shackleton, thirty years old, is taking tea with her friend, Doris who is on a visit from London. In the genteel environs of Harrogate's premier tea room, violence is the furthest thing from anyone's mind. But when Doris is set upon by a mystery assailant, it's up to Kate to find out why - and in doing so, she soon develops a taste for detective-work.
Kate Shackleton's First Case was initially published as a solo e-book, on 20th August 2018, available from the publisher, Piatkus. The story is included as a bomus addition in the UK edition of the tenth Kate Shackleton novel, A Snapshot of Murder. A Snapshot of Murder is now also available in the US and Canada. Read more about it here.
* * *
"Brody's writing is like her central character Kate Shackleton: witty, acerbic and very, very perceptive."
Ann Cleeves, award-winning author of the Shetland and Vera Stanhope mysteries.
"Absolutely captivating! With charm, skill, and spot-on insight, the talented Frances Brody expertly transports us to Yorkshire, 1928 - and we are thrilled to be there. You'll adore the wonderfully atmospheric dialogue and put Brody on your bookshelves with Bowen and Winspear.."
Hank Phillippi Ryan, national bestselling author of Trust Me.
* * *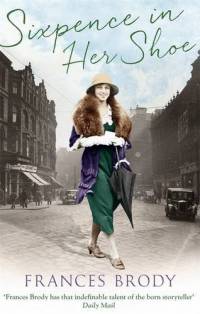 Before creating the Kate Shackleton mystery series, Frances wrote many stories and plays for BBC radio, scripts for television and four novels (as Frances McNeil). Now Sisters on Bread Street, Sixpence in Her Shoe and Halfpenny Dreams, originally published as Frances McNeil novels, are beginning a new life as Frances Brody books. Sisters on Bread Street was published in January 2016, followed in April by Sixpence in Her Shoe, with Halfpenny Dreams completing the set in July.
Visit the 'Sagas' page to learn more.
Frances's stage plays have been toured by several theatre companies and produced at Manchester Library Theatre, the Gate and Nottingham Playhouse, and Jehad was nominated for a Time Out Award. She lives in Leeds where she was born and grew up, and then travelled, including a spell in the USA. Time spent in Bradford, heart of the woollen industry, gave her a valuable insight into the background for Dying in the Wool, the first Kate Shackleton mystery.
Read an interview with Frances on the 'Writers Who Kill' website.
And make sure you visit Frances's blog for the latest from her in her own words!
---
Appearances
Two dates to look forward to in October, and both of them are celebrations! First Frances will be helping to celebrate fofty years of town twinning between Leeds and Dortmund, and then there's the launch of eleventh Kate Shackleton mystery, The Body on the Train.
Saturday 12th October, 2.00 pm

Murder in your Backyard: Frances and fellow crime fiction writers from West Yorkshire June Taylor and Chris Nickson plus visiting Dortmund writer Ursula Maria Wartmann discuss the role of locality in crime fiction, chaired by Ali Harper.
Celebrating LD50: Leeds and Dortmund fifty years of twinning.
Tickets available online, £5 include a glass of wine or soft drink.

Thursday 17th October, 7.00 pm

Launch of The Body on the Train, Waterstones, Leeds
Free event - but please reserve your place!

Saturday 26th October, 10.00 - 11.30 pm

Waterstones, 15 James Street, Harrogate HG1 1QS
More information, or telephone 01423 531953
---
Header photograph, Ingenues arrive, Central Station, Sydney, 1928-1929, by Sam Hood from the collection of the State Library of New South Wales.
Website designed and maintained by Cornwell Internet
Last update: 13th September 2019.