Frances Brody comes from a great family of story tellers, though she's the first in the family to write professionally. "On the screen of my imagination," she says, "I can conjure aunts and uncles from years gone by, and the word pictures they painted of people from earlier generations."
She is the author of nine Kate Shackleton mysteries, with the publication of Death in the Stars in October 2017 (and in the US in Febriary 2018, as Minotaur Books move towards coinciding publication dates on both sides of the Atlantic). The story begins in June, 1927 when Selina Fellini, a popular singing star who is performing with her troupe at Leeds City Varieties, calls on Kate Shackleton. She wants Kate to accompany her to view a total eclipse of the sun...
Read what Frances told Leeds Big Bookend about Death in the Stars: "My single regret about this book is that there is not enough ice cream!"
"The series began," explains Frances, "with a picture in my head of a man trapped behind a high wall, unable to return home. Someone needed to discover who and where he was. Along came Kate Shackleton, sleuth extraordinaire. She stepped from our family album like the genie summoned from the lamp."
Click any cover to read more about that novel, or click here to learn more about Kate and the series as a whole.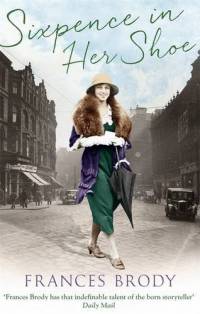 Before creating the Kate Shackleton mystery series, Frances wrote many stories and plays for BBC radio, scripts for television and four novels (as Frances McNeil). Now Sisters on Bread Street, Sixpence in Her Shoe and Halfpenny Dreams, originally published as Frances McNeil novels, are beginning a new life as Frances Brody books. Sisters on Bread Street was published in January 2016, followed in April by Sixpence in Her Shoe, with Halfpenny Dreams completing the set in July.
Visit the 'Sagas' page to learn more.
Frances's stage plays have been toured by several theatre companies and produced at Manchester Library Theatre, the Gate and Nottingham Playhouse, and Jehad was nominated for a Time Out Award. She lives in Leeds where she was born and grew up, and then travelled, including a spell in the USA. Time spent in Bradford, heart of the woollen industry, gave her a valuable insight into the background for Dying in the Wool, the first Kate Shackleton mystery.
Read a recent interview with Frances on the 'Writers Who Kill' website.
And make sure you visit Frances's blog for the latest from her in her own words!
---
Appearances
Frances is beginning to plan her appearances for 2018, and although not all the details are fixed yet, she thought you might like advance notice of some of the dates. She hopes that if she is appearing near you, you will come along and say hello!
Meanwhile, if you would like to know what she said to last year's Moerderische Schwestern conference, you can read her talk here - in English or auf Deutsch!
Saturday, 10 March, 2.00 pm

Afternoon tea with local authors, in the company of Diane Allen (Sagas), Leah Fleming (Historical Fiction) and Milly Johnson (Romantic Comedy) at the Wheatley Arms, Ben Rhydding, Ilkley LS29 8PP
Organised by The Grove Bookshop

Tuesday, 27 March

Local Authors Panel at Shire Oak, Heart Centre, Headingley
a Headingley LitFest event

Tuesday, 10 April, 12.20 pm

Talk Turning to Crime for Cleckheaton Women's Lunch Club, Cleckheaton & District Golf Club

Saturday, 14 April, 3 pm - 4.30 pm

Enjoy Afternoon Tea with Frances and fellow crime writers Mari Hannah and Chris Nickson at Bothams, 35/39 Skinner St, Whitby YO21 3AH
Look out for information from Bothams (Phone: 01947 602823) about how to book.

Wednesday, 18 April, 7.30 pm

Talk Yorkshire Locations in the Kate Shackleton novels for Shepley WI

Friday 4 - Sunday 6 May

Historical Crime Fiction Panel at Newcastle Noir

Thursday, 17 May

Library talk as part of Blackpool Wordpool Festival

Thursday, 24 May, 7.30 pm

Talk to Wharfedale Scone Roses, WI, Burley in Wharfedale

Wednesday, 6 June

Guest speaker at Clevedon ladies lunch in aid of Macmillan Cancer Research

Tuesday, 17 July

Lunchtime talk: Meanwood Oddfellows, Leeds

Tuesday, 18 September, 7.30 pm

Talk for Fewston Foxy Ladies, Harrogate

Tuesday, 9 October, 7.20 for 7.30

Talk to Hartshead WI, Clifton, Brighouse, HD6 4HX
---
Header photograph, Ingenues arrive, Central Station, Sydney, 1928-1929, by Sam Hood from the collection of the State Library of New South Wales.
Frances Brody is a participant in the Amazon EU Associates Programme, an affiliate advertising programme designed to provide a means for sites to earn advertising fees by advertising and linking to Amazon.co.uk.
Website designed and maintained by Cornwell Internet
Last update: 13th February 2018.