Frances Brody comes from a great family of story tellers, though she's the first in the family to write professionally. "On the screen of my imagination," she says, "I can conjure aunts and uncles from years gone by, and the word pictures they painted of people from earlier generations."
She is the author of eleven Kate Shackleton mysteries, with the publication of The Body on the Train in both the UK and the USA in autumn 2019. It is 1929, when a very special goods train from Yorkshire arrives in London carrying the delicate pink rhubarb for which the county is famous - plus the body of a man, stripped naked and with no means of identification. The General Strike is recent enough for Scotland Yard to be anxious about unrest in the northern coalfields - so they call in sleuth extraordinaire Kate Shackleton!
Read more about The Body on the Train or catch up with all of the Kate Shackleton mysteries.
* * *
Or find out how Kate Shackleton became Yorkshire's most tireless private investigator, a heroine ahead of her time. In the short story, Kate Shackleton's First Case, Frances Brody takes us back to where it all began...
Yorkshire, 1921. Kate Shackleton, thirty years old, is taking tea with her friend, Doris who is on a visit from London. In the genteel environs of Harrogate's premier tea room, violence is the furthest thing from anyone's mind. But when Doris is set upon by a mystery assailant, it's up to Kate to find out why - and in doing so, she soon develops a taste for detective-work.
Kate Shackleton's First Case was initially published as a solo e-book, on 20th August 2018, available from the publisher, Piatkus. The story is included as a bonus addition in the UK edition of the tenth Kate Shackleton novel, A Snapshot of Murder. A Snapshot of Murder is now also available in the US and Canada. Read more about it here.
* * *
"Brody's writing is like her central character Kate Shackleton: witty, acerbic and very, very perceptive."
Ann Cleeves, award-winning author of the Shetland and Vera Stanhope mysteries.
"Absolutely captivating! With charm, skill, and spot-on insight, the talented Frances Brody expertly transports us to Yorkshire, 1928 - and we are thrilled to be there. You'll adore the wonderfully atmospheric dialogue and put Brody on your bookshelves with Bowen and Winspear.."
Hank Phillippi Ryan, national bestselling author of Trust Me.
* * *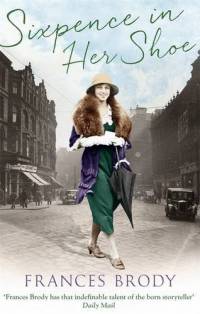 Before creating the Kate Shackleton mystery series, Frances wrote many stories and plays for BBC radio, scripts for television and four novels (as Frances McNeil). Now Sisters on Bread Street, Sixpence in Her Shoe and Halfpenny Dreams, originally published as Frances McNeil novels, are beginning a new life as Frances Brody books. Sisters on Bread Street was published in January 2016, followed in April by Sixpence in Her Shoe, with Halfpenny Dreams completing the set in July.
Visit the 'Sagas' page to learn more.
Frances's stage plays have been toured by several theatre companies and produced at Manchester Library Theatre, the Gate and Nottingham Playhouse, and Jehad was nominated for a Time Out Award. She lives in Leeds where she was born and grew up, and then travelled, including a spell in the USA. Time spent in Bradford, heart of the woollen industry, gave her a valuable insight into the background for Dying in the Wool, the first Kate Shackleton mystery.
Read an interview with Frances on the 'Writers Who Kill' website.
And make sure you visit Frances's blog for the latest from her in her own words!
---
Appearances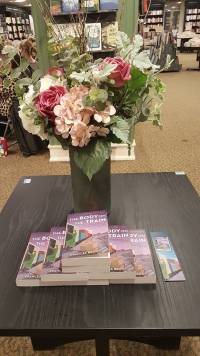 A bouquet for Kate Shackleton, to celebrate her eleventh mystery, The Body on the Train: more than 50 fans came to the party at Waterstones, Leeds to help Frances launch her new book, hear her talk, ask questions and eat cake! Watch this space for details of all Frances's future events - and if you find one near you, do come along and say hello!
And to start with, here are a couple of dates for next year's diary: look out for Frances at - where else? - the Wakefield Rhubarb Festival in February.
Then she will be helping to inaugurate Filey's very first Literature Festival over the weekend of Friday 22 May to Sunday 24 May 2020: join her on Saturday 23 May, at the Evron Centre for talk and a cream tea. Tickets £10 on sale at Filey Post Office.
---
Header photograph, Ingenues arrive, Central Station, Sydney, 1928-1929, by Sam Hood from the collection of the State Library of New South Wales.
Website designed and maintained by Cornwell Internet
Last update: 13th November 2019.