Frances Brody comes from a great family of story tellers, though she's the first in the family to write professionally. "On the screen of my imagination," she says, "I can conjure aunts and uncles from years gone by, and the word pictures they painted of people from earlier generations."
She is the author of nine Kate Shackleton mysteries, with the publication of Death in the Stars. The story begins in June, 1927 when Selina Fellini, a popular singing star who is performing with her troupe at Leeds City Varieties, calls on Kate Shackleton. She wants Kate to accompany her to view a total eclipse of the sun...
Read what Frances told Leeds Big Bookend about Death in the Stars: "My single regret about this book is that there is not enough ice cream!"
"The series began," explains Frances, "with a picture in my head of a man trapped behind a high wall, unable to return home. Someone needed to discover who and where he was. Along came Kate Shackleton, sleuth extraordinaire. She stepped from our family album like the genie summoned from the lamp."
Click any cover to read more about that novel, or click here to learn more about Kate and the series as a whole.
Or find out how Kate Shackleton became Yorkshire's most tireless private investigator, a heroine ahead of her time, in a brand new short story. In Kate Shackleton's First Case, Frances Brody takes us back to where it all began...
Yorkshire, 1921. Kate Shackleton, thirty years old, is taking tea with her friend, Doris who is on a visit from London. In the genteel environs of Harrogate's premier tea room, violence is the furthest thing from anyone's mind. But when Doris is set upon by a mystery assailant, it's up to Kate to find out why - and in doing so, she soon develops a taste for detective-work.
Kate Shackleton's First Case will initially be published as a solo e-book, on 20th August 2018, available from the publisher, Piatkus or in a Kindle edition from Amazon. The story will also be included as an addition to the tenth Kate Shackleton novel, A Snapshot of Murder, out in the UK on 25th October.
* * *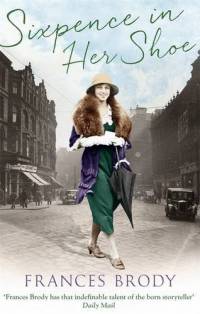 Before creating the Kate Shackleton mystery series, Frances wrote many stories and plays for BBC radio, scripts for television and four novels (as Frances McNeil). Now Sisters on Bread Street, Sixpence in Her Shoe and Halfpenny Dreams, originally published as Frances McNeil novels, are beginning a new life as Frances Brody books. Sisters on Bread Street was published in January 2016, followed in April by Sixpence in Her Shoe, with Halfpenny Dreams completing the set in July.
Visit the 'Sagas' page to learn more.
Frances's stage plays have been toured by several theatre companies and produced at Manchester Library Theatre, the Gate and Nottingham Playhouse, and Jehad was nominated for a Time Out Award. She lives in Leeds where she was born and grew up, and then travelled, including a spell in the USA. Time spent in Bradford, heart of the woollen industry, gave her a valuable insight into the background for Dying in the Wool, the first Kate Shackleton mystery.
Read a recent interview with Frances on the 'Writers Who Kill' website.
And make sure you visit Frances's blog for the latest from her in her own words!
---
Appearances
Frances is looking forward to launching the new Kate Shackleton mystery, A Snapshot of Murder. She hopes that if she is appearing near you, you will come along and say hello!
Friday 19 October, 7.00 pm

Haworth launch of A Snapshot of Murder: Frances will be in conversation with Ann Dinsdale, Curator of the Brontë Parsonage Museum at Cobbles and Clay, 70-72 Main Street, Haworth BD22 8DP
Tickets £5 including drink and canapes, phone number 01535 958 961.

Thursday 25 October, 6.30 pm for 6.45

Leeds launch of A Snapshot of Murder at Waterstones, 93-97 Albion Street, Leeds, LS1 5JS. A Big Bookend event.
Refreshments. Admission free, but you must register your interest by purchasing a free ticket online or in-store. For further details, telephone: 0113 244 4588

Saturday 27 October

10.30 am - 12.30 pm: Waterstones, Huddersfield, Units 12-13, Kingsgate Shopping Centre, King Street, Huddersfield
Telephone 01484 430701
2.30 - 4.00 pm: Waterstones, 2 Kirkgate, Wakefield WF1 1SP (The Ridings Shopping Centre)
Telephone: 01924 363535

Saturday 3 November

10 am - noon: signing at Waterstones, 15 James Street, Harrogate, HG1 1QS
Telephone: 01423 531953
2.00 - 4.00 pm: signing at Waterstones, 15 Coney Street, York, YO1 9QL

Thursday 15 November, 2.30 - 3.30 pm

Waterstones, The Wool Exchange, Hustlergate, Bradford BD1 1BL 01274 723127
---
Header photograph, Ingenues arrive, Central Station, Sydney, 1928-1929, by Sam Hood from the collection of the State Library of New South Wales.
Frances Brody is a participant in the Amazon EU Associates Programme, an affiliate advertising programme designed to provide a means for sites to earn advertising fees by advertising and linking to Amazon.co.uk.
Website designed and maintained by Cornwell Internet
Last update: 11th October 2018.