Death and the Brewery Queen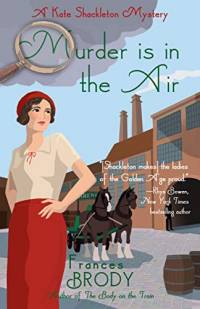 In the Spring of 1930, Kate Shackleton responds to a call for help from the owner of Barleycorn Brewery in the North Riding of Yorkshire. Financial whiz Jim Sykes suspects threats to the brewery's business. When the one employee who may have an insight into what's really going on meets with a fatal accident, Kate's investigation intensifies.
Kate and her niece Harriet move off the beaten track into Oak Cottage. On the day of the brewery garden party, Harriet helps newly crowned Yorkshire Brewery Queen Ruth Parnaby to entertain the children. Planned pony rides are cancelled because pony and drayman have gone missing. It's Kate who opens the wrong door in the brewery. She finds herself staring at a body, and in danger of asphyxiation.
Against a background of family secrets, the lure of a much greater prize for the Brewery Queen and the strong possibility of a miscarriage of justice, Kate's wit, skill and passion for truth are tested to the limits.
The twelfth Kate Shackleton mystery will be published in the US by Crooked Lane, under the title Murder is in the Air (ISBN: 978-1-6438-5466-3); the UK edition, Death and the Brewery Queen will be published by Piatkus on 29th October 2020 (ISBN: 978-0-3494-2308-1).
---
Header photograph, Ingenues arrive, Central Station, Sydney, 1928-1929, by Sam Hood from the collection of the State Library of New South Wales.